My first tattoo is of a Wolf's Head Tattoo and is located on my back, right shoulder! Got it back in September '99 by Sacred Heart Tattoo [Indian Trail location] (North of Atlanta, GA)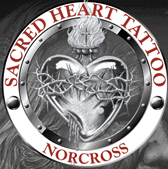 Tattoo size is approx. 5" x 5"
My second; an newest tattoo is of a Crawling Panther and is located on my left, upper arm! Got it this past november '07 at Psycho Tattoo[Marietta, GA Location]! Size is about 6"x 4"